Blanco Sinks, Mindís Eye Sinks, Specialty & Stainless Steel Sinks
Nothing complements beautiful kitchen countertops or bathroom vanity like a beautiful sink. Accent` Granite Interiors features a complete line of stainless steel sinks and specialty sinks from the best companies like Blanco and Mindís Eye. Choose from under mount or drop in styles, farm sinks, glass, porcelain, stainless steel, hammered copper and more.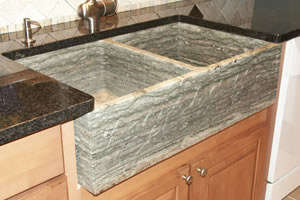 No doubt about it . . . the sink is the most frequently used area in your kitchen. Itís where youíre likely to be standing at as family and friends gather in the kitchen before a meal. Itís also the gathering spot, as guests help you clear the table after a delicious feast. Washing vegetables, slicing and dicing, draining pasta, adding water to recipes, rinsing dishes, washing fine crystal, soaking pots and pans, watering plants . . . it all happens at the sink. Morning, noon, and night, from food preparation to clean-up, your sink is a hard working companion. It's exposed to hot and cold, bumps and bruises, nicks and cuts, plus a full array of enemies mounting daily attempts to leave their permanent mark (coffee, tea, wine, fruit juices, beets, etc.) The sink is also a visual focal point, sure to be noticed by all who enter your kitchen. It's no wonder your sink has to be as tough and durable as it is good looking. Todayís design options provide both style and durability, making it easy to choose the right solution for your lifestyle Ė as long as you know what important features to consider.
Blanco Stainless Steel Sinks
For more than 75 years, BLANCO has been a world leader in quality, innovative design and unsurpassed attention to detail. The company pioneered the use of stainless steel for kitchen sinks and was the first company to introduce hard composite material for sinks. There are two types of sinks used with granite countertops, refereed to as drop-in or under mount sinks. The drop-in sink has a top rim and it sets down into the countertop. The under mount sink is glued or bolted underneath the countertop. Most people opt for the under mount sink for visual appeal. The two types cost about the same but installation is much easier with the drop in sink. Stainless sinks come in various shapes and sizes and prices can run from $50-$500. The thicker the stainless material used to make the sink, the more it costs. Click here for stainless steel sink information.

Minds Eyeís Sinks & Lavatories
For sheer beauty, nothing matches Mindís Eye sinks and lavatories. Choose from stainless steel, porcelain, glass, and even hammered copper sinks and lavatories. Mind's Eye is a Georgia company driven by a vision for creating performance products that embody both beauty and quality. From the initial design of a new home to the addition of another element of luxury, these sinks provide innovative products, at an affordable price, that add panache to your project design.
See samples of Mindís Eye sinks below.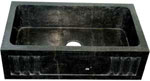 Accent Granite Interiors, LLC is a granite countertop contractor specializing in the fabrication and installation of granite and marble kitchen countertops and bath vanities in both home and business applications. We serve Northern Georgia, Western South Carolina, in and around Atlanta, Athens, Augusta, and Greenville. We are also dealer for Blanco Stainless Sinks, Mindís Eye Sinks, TENAX and Lustro Italiano Stone Care Products. Accent` your home with beautiful granite countertops!
Call 1-888-273-9776 or e-mail Accent` Granite Interiors today at for a free granite countertop estimate.
Accent Granite Interiors, LLC
1294 Athens Hwy
Elberton, Georgia 30635
Driving Directions
Phone 1-888-273-9776
Fax 706-283-3146
E-mail accentgranite@elberton.net