IceStone Countertops
Going Green never Looked So Good!
IceStone is the ideal choice for environment friendly (green) kitchen countertops because it is made from 75% recycled glass. It's also a great option for bathrooms, vanities, bathroom dividers, tabletops, interior walls, and commercial flooring applications. Beautiful shower surrounds and bathtubs can be made with IceStone durable surface material. It can be shaped, water jet cut, inlaid, mounted vertically or horizontally. While there are 24 standard colors available, the color palette is infinite.

IceStone surfaces can be made in almost any color because by adding pigment to the background mix, and then selecting from a variety of sizes and colors of glass. Customers love the consistency and flexibility of IceStone surface material as they can put it on a floor, wrap it up a wall and then place it on the countertop.

IceStone durable surfaces are strong like granite, not as porous as marble and heat-resistant like stone. The chemical composition is benign and 99.5% inorganic making it a very safe material from the standpoint of toxicity and fire resistance. The fabrication, installation and maintenance of IceStone surfaces follow essentially the same process as used with natural stone. Due to its high recycled content and Cradle to Cradle Certification, IceStone materials can be used towards LEED points.
Due to the VOC-free, high recycled content and Cradle to Cradle certification,
IceStone durable surfaces are ideal for projects seeking LEED certification

The United States Green Building Council developed the Leadership in Energy and Environmental Design (LEED) Green Building Rating System in order to transform the built environment to sustainability by providing the building industry with consistent, credible standards for what constitutes a green building. There are different types of LEED rating systems, and all are continuously refined. You can check the latest versions at the USGBC website.


Using IceStone durable surfaces has helped many projects to obtain their LEED credits. Below, you will find information relating to how IceStone can help to obtain credits in the LEED Commercial Interiors (LEED-CI) version 2.0 rating system. Below that, you will find a condensed listing of the other LEED certification systems and the corresponding credits that IceStone can help your project to obtain.
Triple Bottom Line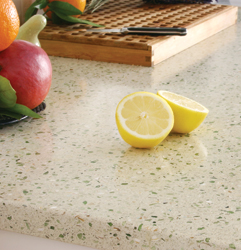 Triple Bottom Line means taking into account not just financial outcomes but also environmental and social performance. IceStone is extremely proud of their social and environmental record:

• Green Manufacturing and Office Facilities: IceStone has adopted goals for energy conservation, carbon emissions, water use, and waste management. IceStone will become carbon-neutral, purchase renewable energy credits, and will continue to reduce energy use per square foot of product produced. IceStone's Water Management Principles are based on the Hannover Principles on Design for Sustainability and the Water Principles of the World Business Council for Sustainable Development. Waste from our facility is tracked and measured against reduction goals. Over 80% of our waste is recycled, recovered or composted. IceStone also conducts environmental education programs for employees.

• Social Responsibility: IceStone's mission statement addresses corporate ethics and social responsibility. IceStone will complete a social audit with third-party verification. IceStone provides living-wages, health benefits, education programs and life-skill training to employees, including free English as a Second Language classes. IceStone's donation program provides free or discounted material to projects that share similar social and environmental goals, with Habitat for Humanity receiving annual donations.

IceStone: TV Highlight Reel from IceStone on Vimeo.
IceStone Colors
Call 1-888-273-9776 or e-mail Accent` Granite Interiors today at for a free granite countertop estimate.
Accent Granite Interiors, LLC
1294 Athens Hwy
Elberton, Georgia 30635
Driving Directions
Phone 1-888-273-9776
Fax 706-283-3146
E-mail accentgranite@elberton.net