Dupont Zodiaq Kitchen Countertops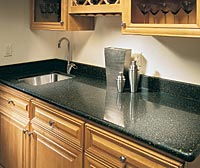 Zodiaq Quartz Countertops
DuPont Zodiaq is 93% pure quartz crystal, which gives Zodiaq quartz countertops a natural depth and radiance without the imperfections common in unimproved stone. And because quartz is one of nature's strongest materials, Zodiaq is also incredibly durable and resists both heat and scratches. Custom-fit to your exact specifications and virtually maintenance free—Zodiaq is perfect for your home, naturally. Dupont Zodiaq offers you consistent color and pattern, available in over 29 colors with various edge profiles, as strong as granite and marble, won't split or crack, nonporous and never needs to be sealed, and a 10-Year transferable limited warranty.
Click here to see Zodiaq Color Chart

Zodiaq Quartz Countertops - The Perfect Blend of Nature & Science?
Superior materials

Zodiaq countertops are composed mostly of quartz, giving it exceptional toughness and a hardness of 7 on a scale of 10 (only diamonds rate a 10!).

Easy to maintain

The smooth, nonporous surface of Zodiaq countertops resist even the toughest stains and will retain its luster for many years without the need for sealants or waxes. Click here for Zodiaq Care & Maintenance.

Perfect color

Zodiaq countertops come in beautiful, uniform colors that go beyond the palette of unimproved stone. And there are no cracks or irregularities. Click here to see Zodiaq Countertops Colors.

Precision fit

Zodiaq can be cut and fit to meet exacting requirements, allowing you a wide range of design options. Click here to measure your Kitchen Countertops.


Exceptional warranty

Zodiaq with a ten-year limited warranty from DuPont is backed by a network of fast-response DuPont Authorized Service Agents. Click here to see Zodiaq® warranty.
Call 1-888-273-9776 or e-mail Accent` Granite Interiors today at for a free granite countertop estimate.
Accent Granite Interiors, LLC
1294 Athens Hwy
Elberton, Georgia 30635
Driving Directions
Phone 1-888-273-9776
Fax 706-283-3146
E-mail accentgranite@elberton.net