Granite Countertops Personify Quality, Luxury & Good Taste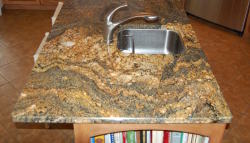 Granite has a distinctive appearance and is ultra durable, highly heat and scratch resistant and, because of its popularity, is cost effective and yields a comparatively high return on your investment. Custom granite kitchen countertops and vanities add style and beauty to your home creating a showcase that personifies quality, luxury and good taste. Whether you are remodeling or involved with new construction, granite countertops will make a beautiful addition and increase the resale value of your home. Granite has become the natural stone of choice for todayís luxury living for your home or office. The enduring product has certainly made it a top selection for performance and durability. No synthetic material can compare to this wonderful stone in beauty or performance.
-Granite Colors and Patterns
-Granite Countertop Installation
-Site Preparation
-View Granite Slabs
-Edge Styles
-Price Estimate Worksheet

To the left you will find a list of information that we think will be helpful to you when planning our granite countertop remodeling project or when selecting countertop for new construction of your home or business.

Of course you may call us with any question or set up an appointment for a free estimate for granite countertops, vanities or commercial applications.
Granite Countertop Photo Gallery
Below are a few photos of granite countertops we have installed in the Athens, Augusta, and Atlanta, Georgia areas.
Accent Granite Interiors, LLC is a granite countertop contractor specializing in the fabrication and installation of granite and marble kitchen countertops and bath vanities in both home and business applications. We serve Northern Georgia, Western South Carolina, in and around Atlanta, Athens, Augusta, and Greenville. We are also dealer for Blanco Stainless Sinks, Mindís Eye Sinks, TENAX and Lustro Italiano Stone Care Products. Accent` your home with beautiful granite countertops!
Call 1-888-273-9776 or e-mail Accent` Granite Interiors today at for a free granite countertop estimate.
Accent Granite Interiors, LLC
1294 Athens Hwy
Elberton, Georgia 30635
Driving Directions
Phone 1-888-273-9776
Fax 706-283-3146
E-mail accentgranite@elberton.net